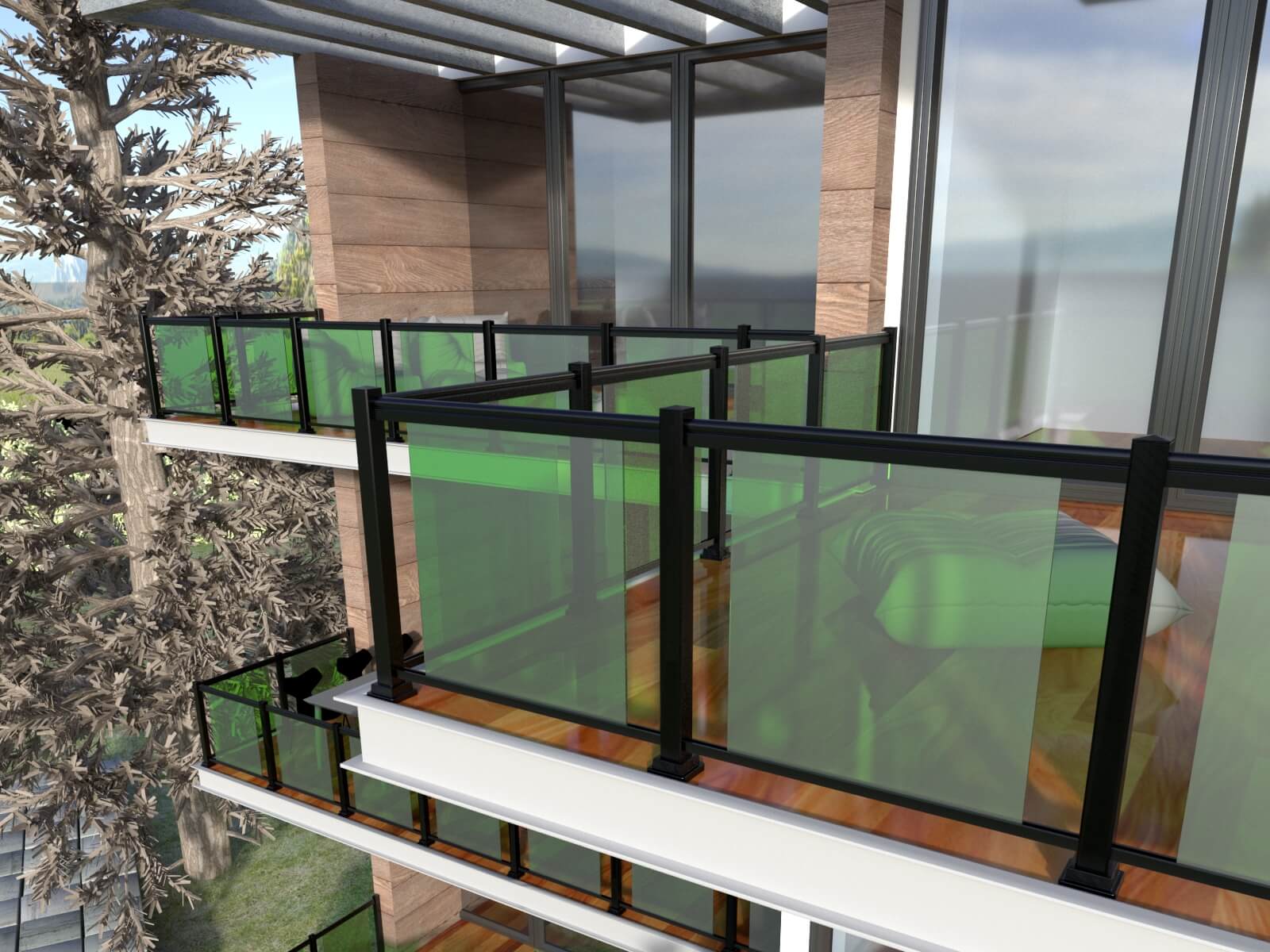 Glass Railings in Toronto
Glass railings are a  great choice if you want to add a touch of elegance to your property.  They enhance every building style and provide a sleek and modern look to your exterior space. They can be installed around your pool area, rooftop, patio, balcony and staircases. 
Glass railings that are made out of clear tempered glass will add to your view and the transparent look is going to leave you with a full view and a luxurious aesthetic. 
We also offer a variety of glass colors depending on what your requirements are.
Railings made out of glass do not damage as easily as other types of railings, because glass does not age or deteriorate over time.
Glass railings are available in framed and frameless options. 
Framed Glass Railings are one of our bestsellers, they feature glass panels held in place by a frame/handrail. 
When you have a gorgeous view and you don't want to miss a single glimpse of it, Frameless Glass Railings are your best option. 
This railing system features glass panels without any bordering frame.
Benefits of glass railings in Toronto
Glass railings are very easy to clean and need no maintenance at all as they do not rust or rot. 
Tempered glass is very sturdy and won't corrode when exposed to different weather and is able to tolerate extreme temperatures. 
With glass railing you can create a safe barrier without disturbing the view. 
Picket railings in Toronto
Aluminum picket railings are a viable option for your railing needs, as they are  durable and strong. 
This type of railing system gives the customer style while not compromising on safety. 
It is also cost effective and favored, due to its long lifespan.
Benefits of picket railings in Toronto
Does not require a lot of time or effort. 
Very simple to install and can be done by the contractor or by homeowners. 
Long lasting products.
Picket Railing provides security and safety.
Very minimal maintenance is required. 
Railings can be produced out of a wide range of materials such as stainless steel, aluminum, vinyl, and wood.
However,  we feel the best option is aluminum, as it is rust and maintenance free. 
Why Choose Us!
Here at AlumiguardMFG, our goal is  to make your railing process as stress-free as possible. 
You will be working with certified and experienced staff that will handle your project from start to finish. 
We are pleased to consult with you and guide your decisions during every step of the process, from the measurements, to design and to the finished product. 
We service Toronto, North York, Etobicoke, Vaughan, Richmond Hill, Markham, Brampton, Mississauga, Oakville, Hamilton & other areas across the GTA.